The 37th Annual Arizona Gay Rodeo will be February 17-19, 2023 at Corona Ranch and Rodeo Grounds – 7611 S 29th Avenue – Laveen (Phoenix), Arizona 85339.
We cordially invite you to participate and celebrate with us as a vendor for the rodeo weekend!
Food vendors are not permitted.
Vendor spaces fill up very quickly; so it would be to your advantage to purchase your space as soon as possible.
Please see the floor plans for Indoor and Outdoor spaces available below. You may request specific spaces; but requested spaces are not guaranteed. However, we will work with you to try to ensure you have the spaces you request.
Although we do not anticipate it to be necessary, AGRA reserves the right to limit the number of spaces per vendor. Also, we reserve the right to move you to a different space should unforeseen circumstances arise to make this necessary.
Contact Erik Avila, Vendor Coordinator, at Erik.Avila.AGRA@gmail.com, or by phone (602) 500-0335 or Michael Weidmann, Assistant Rodeo Director, at corporate@charliesnightclub.com, or by phone (602) 885-9556, if you have questions, or if you need more information.
INDOOR VENDOR SPACES: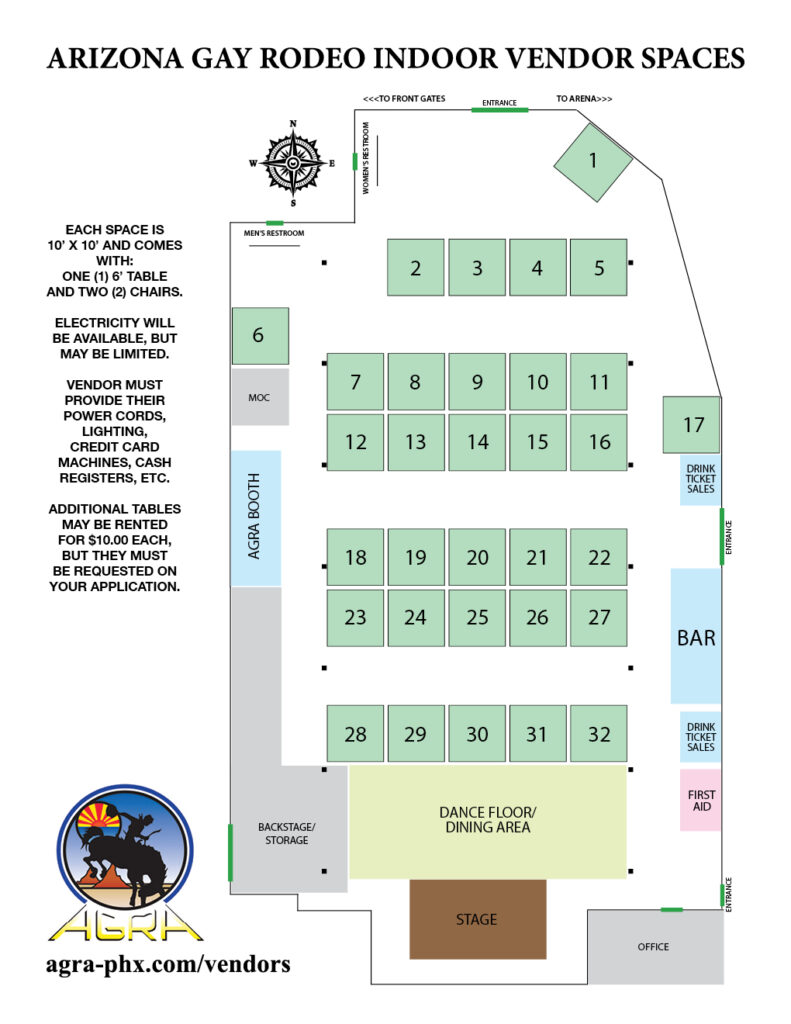 Please choose a space below:
OUTDOOR VENDOR SPACES: